The History Behind it all...
According to fandom historian Fred Patten, the concept of furry originated at a science fiction convention in 1980, when a drawing of a character from Steve Gallacci's Albedo Anthropomorphics initiated a discussion of anthropomorphic characters in science fiction novels, which in turn initiated a discussion group that met at science fiction and comics conventions. Patten defined "Furry fandom" as "the organized appreciation and dissemination of art and prose regarding 'Furries', or fictional mammalian anthropomorphic characters."

The specific term "Furry fandom" was being used in fanzines as early as 1983, and had become the standard name for the genre by the mid-1990s. However, fans consider the origins of furry fandom to be much earlier, with fictional works such as Kimba, The White Lion released in 1965, Richard Adams' novel Watership Down, published in 1972 (and its 1978 film adaptation), as well as Disney's Robin Hood as oft-cited examples. To distinguish these personae from seriously depicted animal characters, such as Lassie or Old Yeller, cartoon animals are referred to as funny animals, a term that came into use in the 1910s.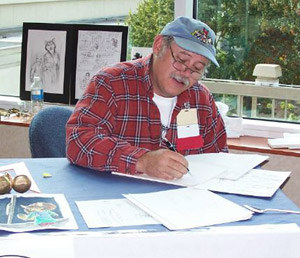 During the 1980s, furry fans began to publish fanzines, developing a diverse social group that eventually began to schedule social gatherings. By 1987, there was sufficient interest to stage the first furry convention.Throughout the next decade, the Internet became accessible to the general population and became the most popular means for furry fans to socialize. The newsgroup alt.fan.furry was created in November 1990, and virtual environments such as MUCKs also became popular places on the Internet for fans to meet and communicate. [Source]
[To The Top]