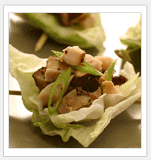 Our Award Winning five star restaurant is the premier name in tea based cuisine. Infusing all of our dishes to utilize all the wonderful and diverse flavors tea has to offer. At the Ivory Cup, tea is so much more than a garnishment or a nightcap, here it's the star.
Tea Smoked Chicken:
Our Signature dish, a chicken breast smoked with brown sugar and green tea , flavored with fresh ginger and sherry; eloquently served upon an iceberg lettuce platter and garnished with green onion.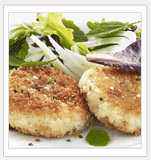 Risotto Cakes with Tomato and Green Tea:
One of our more popular dishes features a fried risotto cheese cake with panko bread crumbs infused with red tea, and served with a sweet tomato, sweet pickled tea and ginger sauce.