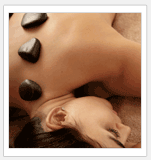 Whether you need relief from aches and pains, want to unwind from your hectic life or wish to pamper yourself in luxury, our experts are adept to using herbal materials; utilizing tea as the main ingredient.
Emerald Petals:
The Emerald Petals relieves stress using a dry brushing, followed by an application of our smooth, layered cream infused with herbs, mud, algae, and cream. Once absorbed into the skin, a thermal rinse is applied for removal. The treatment then ends with a full body massage with our patented Emerald Tea Petal lotion.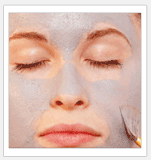 Rose Yunnan:
The Rose Yunnan is our specialized facial treatment. Designed to remove toxins, the process begins with an applied cream combined with Red and Black teas, to deeply dehydrate, and devitalize; aging and toxin damaged skin. When lifted, toxins exit the body, reveling a restored, more youthful self. It is then completed with a facial massage with our Award Winning Rose Yunnan lotion.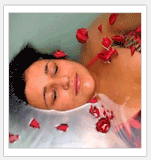 Blooming Flower:
The perfect Full Body cure, our Blooming Flower Combines our Emerald Petals and Rose Yunnan treatments with an additional warm white tea Soak; further detoxifying the body and increasing circulation.